Antigua Bermuda Race 2017
The Antigua Bermuda Race was organised by the Royal Bermuda Yacht Club in association with Antigua Sailing Week and is a new fixture in the offshore sailing calendar. It is likely to become a new 'classic' ocean race being 935 nautical miles as the crow flies, but in far from easy to read weather systems.  It deserves to succeed.
The inaugural race started off Fort Charlotte, Antigua at noon on Friday 12th May 2017. The term 'eclectic' would adequately described the diverse 21-boat fleet, ranging from classic yachts such as the 162ft Eleanora, including Volvo 70 Warrior down to smaller production boats such as Heartbeat IV, a Dufour 45e, racing under the flag of the Royal Burnham Yacht Club. The stimulus for the race was the America's Cup but as Les Crane (Race Chairman) said "The America's Cup in Bermuda has ignited interest in the race this year, however it is a well-known route for yachts leaving the Caribbean bound for the Eastern Seaboard of the United States as well as destinations in Europe. Our intention is that the Antigua Bermuda Race will be an annual event." The organisers had included the Caribbean Sailing Association rating system as well as IRC and many boats (including Heartbeat) elected to race in both. Judy and others took part in a pre-Race video interview discussing the race.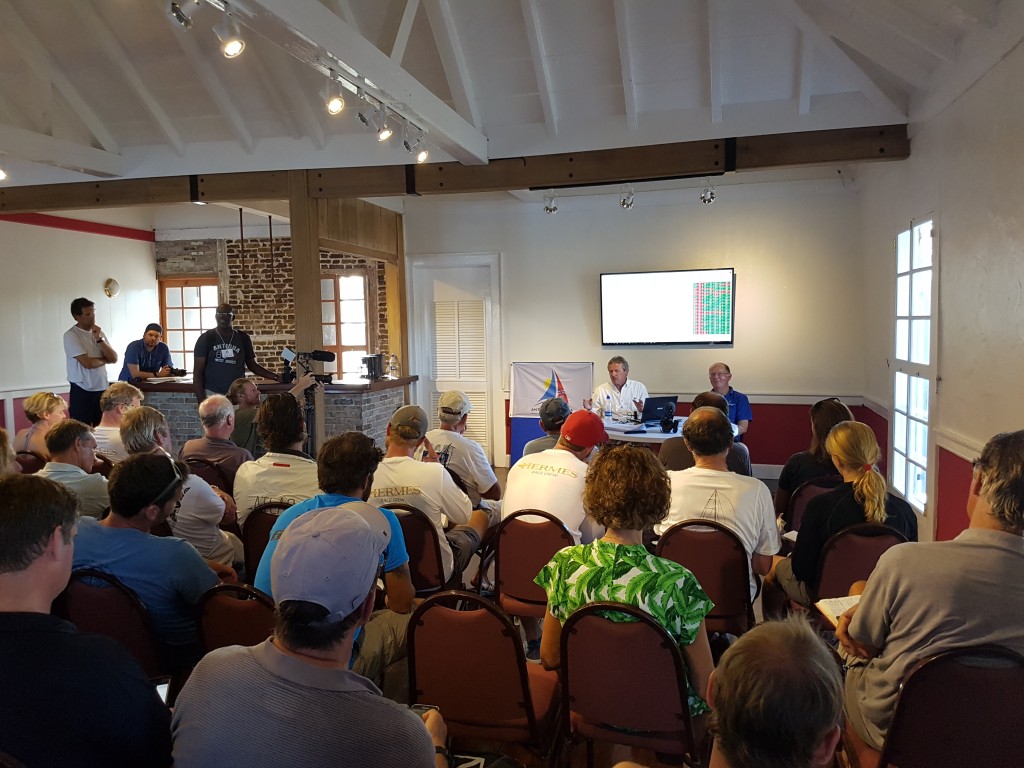 A great pre-race party at historic Nelson's Dockyard saw many East Coast and Burnham people, including Will Dallimore, Jeremy Polturak, Tony Harris, and Richard Power crewing on Swan 82 Stay Calm. Rory Munro was there (working on J- Class Shamrock) and Mark Dalton (Consultant in Emergency Medicine in Sydney, another old Anchor Cottage attendee, who had been sailing on Spirit of Bermuda).
Having taken the big decision to embark on another long-distance race, Heartbeat had to be got into race mode (having been inactive since the 2016 Caribbean 600). A hectic 5 days of preparation in Catamaran Marina, Falmouth Harbour.
This was done  with part of the Heartbeat usual crew (Judy, President of the RBYC; Jason; Nicola Paterson, round the world sailor and HB crew in EAORA, RORC and all classic races; John Hounsell, originally medical student at Anchor Cottage now Consultant in Acute Medicine and also EAORA, RORC and classic race devotee) and our latest additions (Fred Brown – of the Burnham Brown Yachting Dynasty; Robin Baggaley – Halifax, Nova Scotia, and Hong Kong – highly recommended by Rory Munro and Adam Prior; and Tristan Dorrien-Smith – highly recommended by his mum, Lucy, when we were in Antigua in February) meant that we were able to leave dock at 1100 (with Jason clearing customs and immigration at 1050).
Possibly the most stressful prep ever but ably assisted by Stan Pearson (known to many in Burnham) and his team, with flash floods on the day before the race delaying work.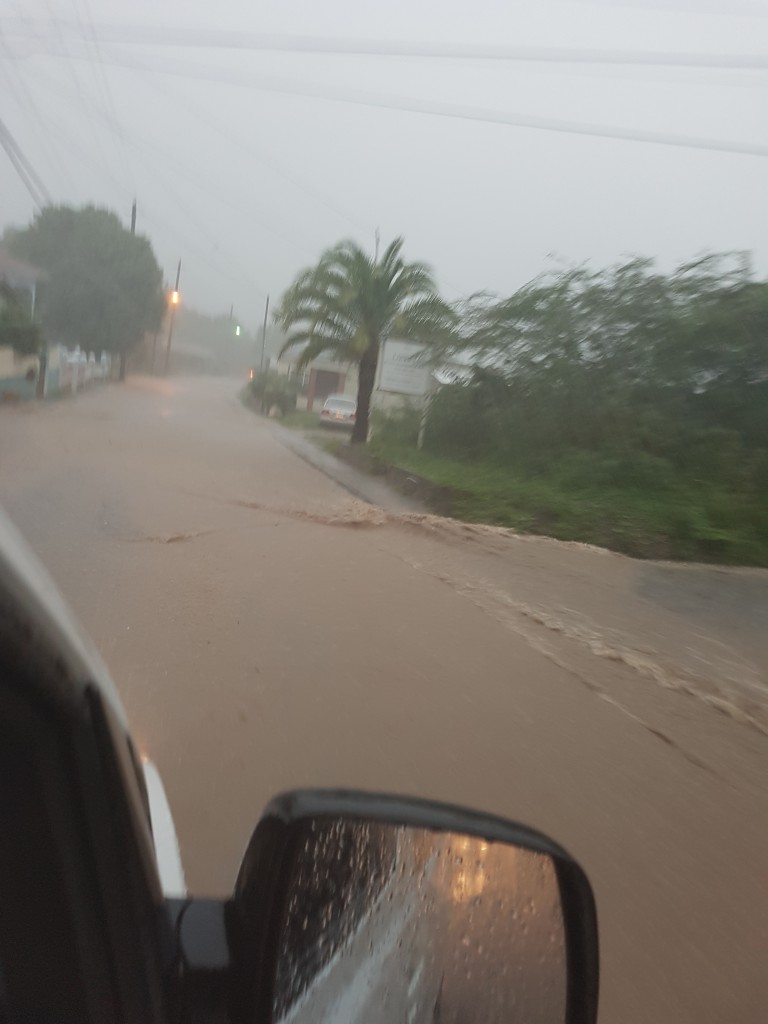 It was a great relief to get on the water and get going in a light southerly breeze of 10 knots and warm Antiguan sunshine providing great conditions for the start.
It was apparent immediately that we had a fantastic team on board, and that the younger members were outstanding sailors. The entire fleet started together which provided great contrasts in size and appearance.
Conditions were great for the first day and night (although a constant 15 knots would have been nice) and 24 hours into the race all of us had passed Barbuda. The next two to three days were crucial tactically, dependent on size, speed and nature of boat. Go East or go West? Three of the fastest yachts were the furthest west of the entire fleet hoping to get the fresh breeze, but only one yacht (Warrior) managed to grab the low pressure system, leaving the rest of the fleet in their wake. The fleet tracks can be seen on YellowBrick Tracker.
Heartbeat decided early to go East to anticipate windshift and angle into Bermuda on or around day 6 or 7 as we could just about average 150 miles a day.
The perfect conditions changed into technically challenging Atlantic weather with squalls (bye-bye A2) and a complete night of electrical storms with two nights of torrential rain and ~ 25-26 knots testing us all.
These were generally followed by beautiful sunrises, interspersed with sightings of wildlife such as whales, dolphins turtles, flying fish, and tropic birds.   Always makes such trips worthwhile.
Two watches of beating were enough for us all and gave way then to very light airs. Key was to keep Heartbeat ghosting along in 2-4 knots of wind, made more testing by the unrelenting heat and we only lost way briefly on two occasions. We were able to celebrate Fred's 23rd birthday at sea – with a lovely packet of cheesy balls, cake, candles and balloons.
The last two days were technically demanding and encouraged by the President's reminder of David Geaves's quote 'Commodore's never retire' the watches strove to keep Heartbeat moving.
Slowly and painfully on Friday Bermuda came into view. The wind softened and shifted, but we were determined that we were going to get in by the time limit (1200h Saturday 20th). As we approached Bermuda we felt a change of weather and slowly and following a brilliantly placed gybe by the Watch Captain (me) we began to move towards Sea Buoy, the finish line.
The off watch came up (and as they had done before) conjured up a lovely light breeze getting us to finish just before midnight on 19th May.   Anchoring in St George's Harbour and consuming several litres of gin, meant that details overnight were a little fuzzy, but the following morning we were delighted that we had sailed the entire trip (1007 miles) and had been placed 4th in CSA and 5th in IRC, first British boat in both classes, and first amateur crewed boat.  The following morning we berthed at the Royal Bermuda YC with our East Anglian Offshore Racing Association flags proudly flying!
Stephen Murray Jrs' American Volvo 70, Warrior finished the 2017 Antigua Bermuda Race on Tuesday 16 May 2017 just after 0830 mins ADT, taking Monohull Line Honours and setting the race record for the Antigua Bermuda Race of 3 days 20 hours 32 mins & 41secs. Warrior is operated by the non-profit US Merchant Marine Academy Foundation for the benefit of the Warrior Sailing Program which does a fantastic job helping wounded veterans to maximize their potential through the sport of sailing. After all yachts had been accounted for, and after time correction, Warrior was also the winner of both IRC and CSA.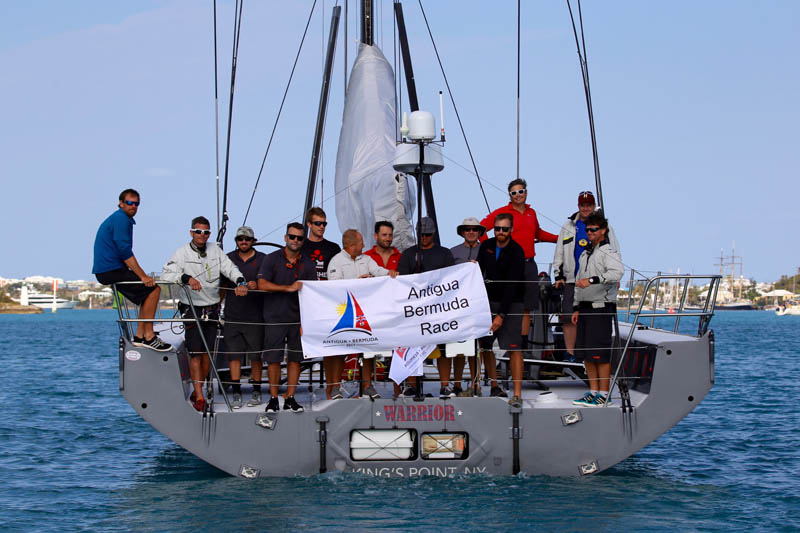 One incident though reminded us all of the reasons that safety is such a prime concern as on 17 May the Antigua Bermuda Race Committee were informed by RCC Bermuda Radio that Les Crane's Farr PH 56, Monterey had been abandoned after taking on water, and sank. Thankfully all crew were safe and well having transferred onto the Volvo 60, Esprit De Corps IV from Québec which was close by and also competing in the race.
The Prize Giving Ceremony was held at the Royal Bermuda Yacht Club (another but older RBYC!) and once again we were able to meet up with other East Coast and Burnham regulars, including Amy Munro (doing fantastic sustainability work with LandRover BAR); Jonathan Corless (son of former RBYC Commodore, Derek) and who is currently Vice-Commodore of the Royal Bermuda Yacht Club;
and itinerant sailor Mike Champion (who has sailed on the yacht that can't be named). For us, the icing on the cake of the race was having a) sailed all the way; b) being first British boat; c) doing it with friends who we would go anywhere with; d) another classic long-distance ocean race under our belt; e) not hitting any Bermudan reefs. The celebrations were carried out by the entire team in true Burnham style (a small glass of dry white wine spritzer and early bed).   We are very, very proud of them all and we are very proud (again) of Heartbeat IV.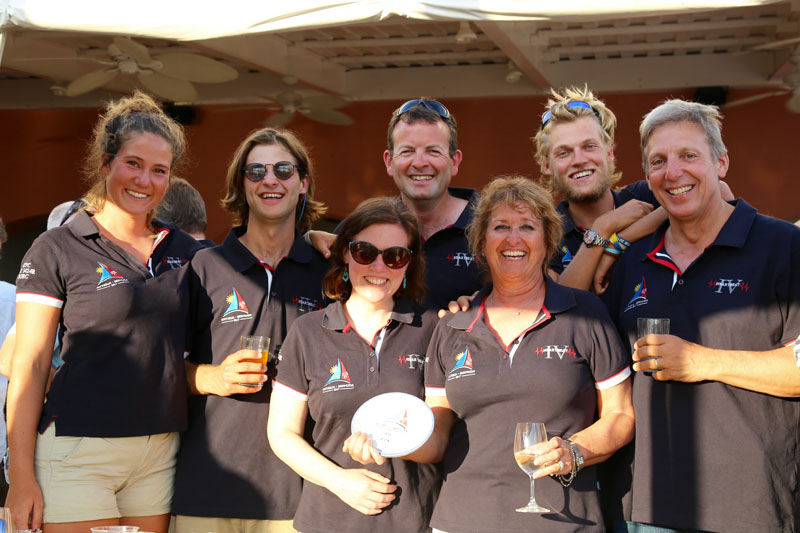 Indeed the President of the Royal Burnham Yacht Club was (it appears) very pleased: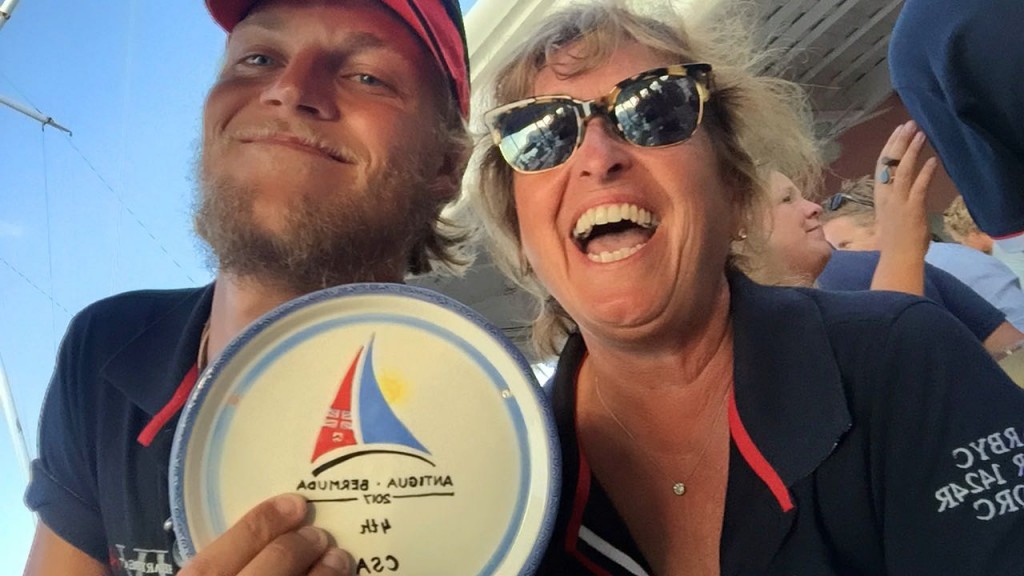 This was the most fantastic race with a really wonderful crew. The enthusiasm, skill, endurance and humour of the team and particularly the new members meant that the 8 days in (very) cramped conditions, with extreme heat, fatigue and concentration was a joy.   The way in which sailors, young and old, from Burnham and the East Coast (and Tresco and Nova Scotia/Hong Kong) are embedded in international sailing events is one that we should all be proud of.
The 2018 Antigua Bermuda Race will take place in the week following Antigua Sailing Week which runs from April 28th – May 4th.
Results Antigua Bermuda Race 2017
Place, Yacht Name, Type, Owner/Skipper, Hometown, Results, Total Points
IRC (IRC – 15 Boats) 1. Warrior (IRC), Volvo 70 modified 70, Stephen Murray, Jr. , Metairie, LA, USA – 1 ; 1 2. Avanti (IRC), Hanse 43, Jeremi Jablonski , Wilton, CT, USA – 2 ; 2 3. Freya (IRC), Swan 90s 88, Don Macpherson , Santa Monica, CA, USA – 3 ; 3 4. El Oro (IRC), Auzeppy-Brennuer 68 68, Tim Wilson , Paddington, NSW, AUS – 4 ; 4 5. Heartbeat IV (IRC), Dufour 45E 44, Jason & Judy Payne-James , Southminster, Essex, UK – 5 ; 5
CSA – Monohull (CSA – 17 Boats) 1. Warrior, Volvo 70 modified 70, Stephen Murray, Jr. , Metairie, LA, USA – 1 ; 1 2. Avanti, Hanse 43, Jeremi Jablonski , Wilton, Ct, USA – 2 ; 2 3. Freya , Swan 90 88 , Don Macpherson , Santa Monica, CA, USA – 3 ; 3 4. Heartbeat IV, Dufour 45E 44, Jason & Judy Payne-James , Southminster, Essex, UK – 4 ; 4 5. Stay Calm, Swan 82 82, Stuart Robinson , Hampshire, UK – 5 ; 5
CSA – Classic (CSA – 4 Boats) 1. El Oro (Classic), Auzeppy-Brennuer 68 68, Tim Wilson , Paddington, Aus – 1 ; 1 2. Spirit of Bermuda, Ballyhoo Schooner 87 , Michael Moreland , Hamilton, BDA – 2 ; 2 3. Mariella (Classic) , Yawl 79.5, Carlo Falcone , ANT – 3 ; 3 4. Eleonora, Gaff schooner 105.4 Peras Limited , St.Julians, MLT – 4 ; 4
CSA – Multihull (CSA – 1 Boats) 1. Allegra, Nigel Irens Catamaran 78 FastCat Ltd , Georgetown, CAY – 1 ; 1